Lifehacker
June 16, 2015
Mental illness isn't like a sinus infection. You can't just wait it out or take a pill to make everything go away. Our brains are complex and enigmatic, and mental illness is no different. This leads to a lot of misconceptions that make recovery much harder.

Medical Xpress
June 17, 2015
Though every day we gain greater insight into how the human brain works and how brains might be disrupted in psychiatric disorders, we are far away from uncovering the exact circuits and mechanisms that underlie each of these disorders.

The Guardian
June 12, 2015
A psychotic episode can be terrifying – especially when there are no mental health beds available in the entire region

Guardian
June 12, 2015
Care Quality Commission says failings in NHS response can result in the most vulnerable people being abandoned.  Note – A&E (Accident & Emergency) is the British term for what would be the ER in Canada.

Guardian
June 12, 2015
Watching Solveig Melkeraaen's film with a psychiatrist gave me answers the audience are denied in this underexplored self-portrait of depression and ECT.
 We've all heard about yoga's stress-relieving powers—how it can help ease the symptoms and heal the damage that stress inflicts. But despite the positive effects that yoga has been shown to have for many people affected by depression, these benefits don't receive nearly as much attention. Maybe it's because being "stressed" is a label that many of us wear with pride.
 The meditative practices of yoga offer a simple and nurturing technique that you can add to your repertoire—the practice of relaxed breath awareness. A powerful tool for preventing the onset of depressed moods in the first place, breath awareness restores energy during acute phases of depression, lightens your emotional load, and creates needed distance from gloomy thoughts.

New York Times
June 11, 2015
Dating is hard. Dating when you are overweight is harder. Dating when you are a big dude with a serious mental illness is nearly impossible.
Psych Central
June 10, 2015
Far too often in society, people use their diagnosis to define them. Or other well-meaning people or professionals describe someone as "Oh, that person is bipolar" or "She's just borderline." I've even seen leading mental health advocates refer to themselves as a "depressive" or "schizophrenic." I think this kind of shorthand, self-labeling is a bad thing. Here's why.

NPR
June 8, 2015
Many people carry some set of those genes, but most don't end up with a psychotic disorder. Instead, a study suggests, they might be getting a small creative boost.

Philadelphia Inquirer
June 8, 2015
On first glance, it could pass for an ATM. Or the machine at the Wawa for ordering sandwiches. But the sleek, wireless kiosk tucked in a corner of Drexel University's rec center has a much more weighty purpose.

Psych Central
June 8, 2015
Developers over the years have released thousands upon thousands of health and mental health apps in the Apple App Store and on Google Play. Most of them you've never heard of, and fewer still last much longer than a year on the market.

National Alliance on Mental Illness
June 5, 2015
Results from NAMI's 2014 survey on Emergency Room (ER) visits for families and individuals who had a psychiatric emergency.

Washington Post
June 8, 2015
NEW YORK -These respite centers have no medical staff, no medications, no locks or curfews and no mandatory activities. They are secure, welcoming places where people go to escape pressure in their lives and talk to trained "peer professionals" who are recovering from mental illness themselves.
For past four years, Taking Charge's closing speaker, Tayyab Rashid, Ph.D.C. Psych., Licensed Clinical Psychologist & Researcher, UTSC (Trained in Mindfulness Based Stress Reduction – MBSR), has been working closely with Kings College, London UK, on the WELLFOCUS PPT project.  It is a strength-based approach for psychosis and they have published five papers.  Have a look at the web site here and papers "Evaluation of a Positive Psychotherapy Group Intervention for People with Psychosis:" (hyperlink to pdf here) and   Modifying Positive Psychotherapy for Psychosis (hyperlink to pdf here).

Scientific American
June 4, 2015
The Princeton mathematician, who along with his wife died in a car crash last month, claimed that aging as opposed to medicine helped improve his condition.
A new magazine that will published and distributed across Canada – you can have a look at their web site today!  And visit them on Facebook too!

Pacific Standard
June 4, 2015
Depression, gambling addiction, schizophrenia, PTSD: There's really nothing fun about these serious mental disorders. But psychiatrists and devoted Star Wars fans Ryan C.W. Hall and Susan Hatters Friedman are trying to change that with a series of papers published in Academic Psychiatry that examine these disorders through major Star Wars characters.

BBC
June 4, 2015
Mental health patients smoke more than three times as much as the general population, a Public Health England and NHS survey of 105 care units suggests.

ScienceDaily
June 3, 2015
The strongest evidence yet of what causes schizophrenia – a condition that affects around 1% of the global population — has been provided by an international group of scientists. The work strongly suggests that disruption of a delicate chemical balance in the brain is heavily implicated in the disorder.

Huffington Post
June 1, 2015
In the near future, it may be possible for doctors to take brain vitals on all of their patients, helping them catch worrying symptoms of emotional distress and neurocognitive changes that signal the presence of a TBI, concussion, or mental illness.  Further, having an app collect data can save time for a primary care doctor and allow them to follow up with questions as well as map trends in their patients' mood and cognition over time.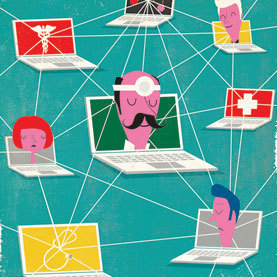 Social Patient: Social Media Tips for Healthcare, re-thinking doctor-patient communications in the digital age, and more!
A new Ipsos Public Affairs poll conducted in April 2015 in support of Mental Health Week suggests that Canadians are wearing rose-coloured glasses when they are assessing their mental health.

Kaiser Health News
June 1, 2015
Note-sharing got a kick-start five years ago when researchers from Harvard Medical School joined forces with the Pennsylvania-based Geisinger Health System and Harborview Medical Center in Seattle to launch a high-profile pilot program called Open Notes. The initiative focused on encouraging health care providers to give patients access to doctors' office notes and then tracked what happened when patients read them.

First Aired: 01-19-2009
UK clinical psychologist Rufus May descended into madness — convinced he was on a spy mission and that animals were robots, he even walked into a family gathering naked.
How did Rufus find meaning in these experiences, learn to live without medication, and become a successful psychologist and mental health advocate? Rufus was recently featured in the Channel 4 feature film The Doctor Who Hears Voices.

Hogg Blog
May 29, 2015
Assessing how far we've come in our treatment of persons with mental illness demands that we understand where we've been. In this episode of Into the Fold, Dr. Patricia Galloway discusses the monumental effort to digitally preserve patient records from the segregation-era Central Lunatic Asylum for Colored Insane – now Central State Hospital – in Petersburg, Virginia.

New York Times
May 29, 2015
How can communities better prepare for the crisis of an arrest – so they can act more effectively in the defense of family, friends or neighbors?That question is being addressed by a nascent, but growing, "participatory defense" movement – community organizing that empowers people who face charges, as well as family and community members, to influence the judicial process.

Mental Health Channel
May 28, 2015
(VIDEO) Brandon Staglin went from brilliant engineering student to institutionalized. Over the next decade he fought his way back, to help found a leading brain research organization.
ScienceDaily
May 27, 2015
Scientists have found that hearing voices and seeing things (that others cannot) impacts about 5 percent of the general population at some point in their lives.
mHealthNews
May 27, 2015
Mobile Therapy's algorithms are based on research conducted by Professor James W. Pennebaker at the University of Texas at Austin, and their appeal to mental health practitioners is based on a national survey conducted by SelfEcho, which found that 66 percent of providers believe that collecting data on patients through mobile devices would improve treatment.

May 27, 2015
The Globe & Mail
OPEN MINDS: BETTER MENTAL HEALTH CARE – Part of a series in the Globe & Mail about Mental Health – follow #OpenMinds on Twitter for more.

May 25, 2015
This inspiring video shares the story of schizophrenia from a sister's perspective. You may wish to share with your friends and family to help them learn a little bit more about Schizophrenia and Mental Illness.

Huffington Post
May 22, 2015
SAMHSA is a small federal agency with a big national mission.   By working in partnership with states and local organizations, strategically-placed federal funds can have a significant, lasting impact on the delivery of mental health care services.

Mental Health Channel
May 21, 2015
(VIDEO) Using virtual reality, clinicians take veterans back to battle to defuse traumatic memories. Could it be equally effective for other mental health issues?

The Guardian
May 21, 2015
My last psychiatric consultation we discussed this, discussed bringing my dose down, eventually maybe stopping….We run through other options – counselling? Group therapy? She looks almost sheepish as she mentions "mindfulness? It's the in thing at the moment." It is indeed the in thing; promoted by the NHS and at GP surgeries, and subject to numerous newspaper pieces, mindfulness-based cognitive therapy is suffering the fate of many promising psychiatric treatments – hype and over application.

Brain Pickings
May 21, 2015
Project 1 in 4 by School of Visual Arts student Marissa Betley explores the everyday realities of life with mental illness – which affects one in four people in America and adds up to a societal cost of $300 billion per year – through a series of drawings based on the experiences, struggles, and coping strategies of people Betley interviewed, who had been diagnosed with depression, anxiety, schizophrenia, PTSD, and a range of other disorders.

Yahoo! Health
May 20, 2015
Navigating the dating scene is tricky for anyone – but how is it different when you have a mental condition like bipolar or schizophrenia?

Neuroskeptic
May 20, 2015
A provocative paper says that neuroscientists who research mental health problems ought to listen to the views of people who have experienced those conditions.

BPS Research Digest
May 19, 2015
Psychologists are taking an increasing interest in the way we all speak to ourselves in our heads. Unpleasant, uncontrollable inner voices can be a feature of mental illness, but private self-talk is a mundane part of most healthy people's consciousness.

Tech Republic
May 19, 2015
Digital health is allowing for every medical industry to expand its reach and accessibility, and that presents a great opportunity for mental health services. Here are 7 things to know about this growing potential of providing mental health services online.

ScienceDaily
May 11, 2015
Extremely high levels of cardiovascular risk factors have been found in people with established psychosis, with central obesity evident in over 80 percent of participants in a recent study.

ScienceDaily
May 12, 2015
Mass shootings at the hands of unhinged loners – such as those in Aurora, Colo.; Santa Barbara, Calif., and Newtown, Conn. — perpetuate a commonly held belief that mental illness triggers violent crimes. But a new study shows that hallucinations and delusions associated with psychiatric disorders seldom foreshadow acts of aggression.

Monitor
May 11, 2015
The $4 million grant was awarded to Dr. John Blangero, director of the Genomics Computing Center at the institute, for a study on genes that might have an impact on schizophrenia, bipolar disorder and major depression.

Mind Hacks
May 7, 2015
The Independent have been running a series called 'If I were Prime Minister' where they've asked a diverse range of people what they would do if they were PM. I written a brief piece for them where I talk about why we need to make hospital care for people with psychosis much less distressing.

ScienceDaily
May 7, 2015
Researchers believe they have discovered an abnormality in the schizophrenic brain that could be responsible for many of the disease's symptoms and could provide a drug target for therapeutic treatments. Schizophrenia affects millions of people worldwide but the cause of its wide-ranging symptoms remains largely unknown.

Los Angeles Times
May 4, 2015
In schizophrenia, a new study finds that brain abnormalities that underlie distinct symptoms and were long thought to be unrelated are, in fact, linked. The resulting insight could pave the way for better treatments
Economist
April 25, 2015
The stigma of mental illness is fading. But it will take time for sufferers to get the treatment they need. More>>
Care2.com
April 23, 2015
Diet is one of the key factors of preventing disease and maintaining a healthy lifestyle. It's no surprise, then, that what you eat can also impact your mental health, and, for people with mental illnesses or disorders, your diet can both help and harm your treatment and recovery. More>>
April 22, 2015
National Children's Mental Health Awareness Week is from May 3-9, 2015, which is geared toward raising awareness to the issues and causes integral to the children's mental health field in communities across the country. In recognition this year, the National Institute of Mental Health (NIMH) is hosting its first live Google+ Hangout on first-episode psychosis. Each year, about 100,000 young people in the U.S. experience a first episode of psychosis. To learn more about warning signs and treatments for first-episode psychosis, please watch NIMH's Hangout on May 5, 2015, from 2 to 3 p.m. EST. We encourage you to ask questions before the Hangout or during! Here's more on how you can participate. More>>
ScienceDaily
April 21, 2015
A new study has found that internet discussion forums have positive links to well-being and are even associated with increased community engagement offline, contrary to a common perception of them being outdated and prone to trolling. More>>
ScienceDaily
April 13, 2015
But an international, multi-disciplinary team led by Bournemouth University's Dr Kevin McGhee is aiming to uncover just that — using fruit flies to isolate and examine the genes involved in the development of schizophrenia, with the hope of improving knowledge and treatments for the condition. More »
HealthDay
April 3, 2015
Aerobic exercise might boost memory and thinking skills in people with schizophrenia, a small study finds. More »
Houston Chronicle
April 1, 2015
RIO DE JANEIRO (AP) – Bispo do Rosario, who was diagnosed with schizophrenia, transformed virtually anything he could get his hands on – by any means possible – into art…. A new exhibition of his works has just opened the institution where he lived: a Rio de Janeiro psychiatric institution once notorious for rampant abuses. More »
Kaiser Health News
March 31, 2015
The National Institute of Mental Health has unveiled a five-year strategic plan emphasizing research it hopes will ultimately give clinicians a better understanding of what mental illness looks like inside the brain – before a patient shows outward symptoms. More »
The Hill
March 30, 2015
For people living with a serious mental illness such as schizophrenia or bipolar disorder, changing medications is never something you do lightly. Even a switch from a brand name to a generic version of the same drug can cause severe impairment issues and behavioral disruptions that require hospitalization. More »
Scientific American
March 24, 2015
But there's at least one mental malady that, while common in humans, seems to have spared all other animals: schizophrenia. Though psychotic animals may exist, psychosis has never been observed outside of our own species; whereas depression, OCD, and anxiety traits have been reported in many non-human species. More »
Psych Central
March 23, 2015
It turns out that bipolar disorder has a genetic link to at least four other mental illnesses: autism, attention deficit hyperactivity disorder (ADHD), major unipolar depression and schizophrenia. More »
New York Times
March 20, 2015
Some drugs that have gone through Sirum's system are almost literally worth their weight in gold. A unit of Invega Sustenna, used to treat schizophrenia, is listed on the drug cost database at $1,250, but it can retail online for upwards of $2,000. More »
ScienceDaily
March 18, 2015
People with a severe form of schizophrenia have major differences in their brain networks compared to others with schizophrenia, bipolar disorder and healthy individuals, a new study from the Centre for Addiction and Mental Health (CAMH) shows. More »
Psychology Today
March 5, 2015
At the heart of this spat is a recently published monograph called "Understanding Psychosis and Schizophrenia: Why People Sometimes Hear Voices, Believe Things That Others Find Strange, or Appear Out of Touch With Reality …and What Can Help"….Of course, I'm a psychiatrist myself, so my answer may be predictable, but if nothing else perhaps I can clarify why Dr. Lieberman, along with many other psychiatrists, have been critical of the report. More »
Vice
October 15, 2014
Sleep was the first thing to change. Then his appetite. Never ending thoughts – about everything. Then voices. This is one man's story. It's now been a year since he's had a relapse. While his medication means that he has precious little sex drive and has put on a bit of weight, he does admit that those are small prices to pay for clarity of mind. More »